Spezia, Italy, July 7-15, 2021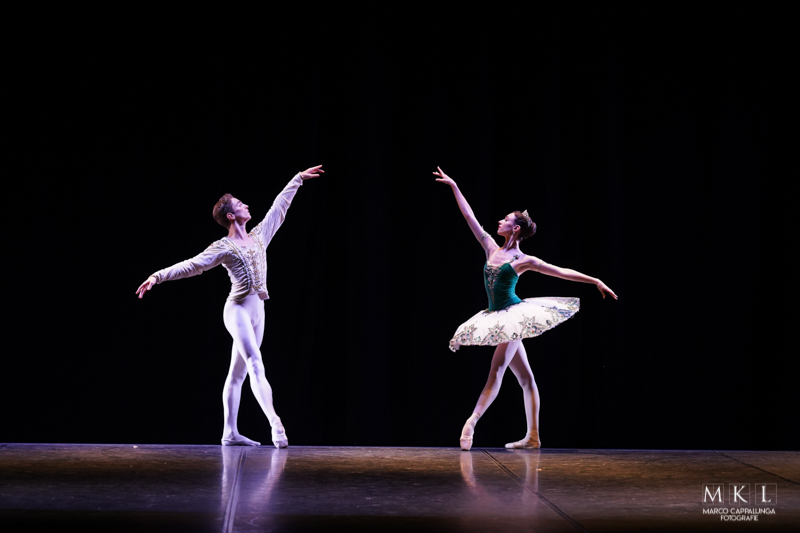 GENERAL INFORMATION 

The Course is open to ballet students aged from 10 to 25 in 2021. 
The registration is possible only after passing an audition (after this we will send you details to apply) , you can check Audition dates and locations below or by video. 
FOR NOW IT IS POSSIBLE TO HAVE AUDITION ONLY BY VIDEO.
In the unlikely event that it cannot take place in person, it will take place online via the Zoom platform. 
Groups will be divided by age.
Teachers reserve the right to move students from one course to another on the first day, depending on the level.  

The lessons will be attended by four of the best students of the Vaganova Academy, who will perform in the final gala together with the students. 

Three guaranteed lessons per day with possibility to add optional classes.

Lessons in classical ballet, acting skills, choreography or repertoire.
Furthemore, you can add optional classes: 

pointe work, aged 11-13 
variation class 14-15+ 

In this regard, a list of authorized variations will be sent to the students who will have to choose one, study it then show it to the Teacher  
who will evaluate wheter the student can be included in the variation class course or not. Only some of them will be staged at the final performance.
The optional classes are to be paid extra. Live music with pianists. Translators and assistants in the classes. 
Summer Intensive location, 
La Maison de la Danse ssd , Via Fontevivo 21n , La Spezia, Italy 

IN THE PAST EDITION FOUR STUDENTS OF LA SPEZIA MASTERCLASS HAVE BEEN SELECTED TO ENTER THE VAGANOVA BALLET ACADEMY ANNUAL COURSES IN ST. PETERSBURG 

PROGRAM 
July 7: welcome and beginning of lessons; 
July 8-10 ordinary classes; 
July 11 free day; 
July 12-14 lessons; 
July 15 at 6:00 pm: closing Gala performance 


The lessons will be held approximately from 9.00 AM to 5.00 PM with an hour for the lunch break and 15 minutes between one class and another. 
Only the first day will start later. 

Once you have passed the Audition, please fill in the registration form downloadable here by clicking https://www.vaganovainternationalintensiveprograms.com/wp-content/uploads/2019/10/application-form-vaganova-2021.pdf  and send it by email with a ballet photo, free pose, plus a medical certificate valid in July 2021. After that, we will send you info about the participation fee and payment. 
Registration is valid only after the payment has been done. 

Once the number of participants is reached, we will close the enrollment. Classes are at closed number. 

A medical certificate stating your good health for the practice sport is required and must be sent to us by mail or in person. 

Possibility for Ballet Teachers to watch the lessons. Only 10 places available. 

If you are unable to attend the Program due to personal reasons, participation fees will not be refunded under any circumstances 

ACCOMODATION, PARTNERSHIPS AND INFO 

We have a convention with Salesian Institute for minors without accompaniment, groups and adults. 

Unaccompanied minors, individuals or groups, or adults looking for practical and convenient accommodation, or even groups with their own tutor can use the convention with the Salesian Institute in Via Roma, La Spezia. Possibility of overnight stay and half board, plus tutor service from-to the lessons 
premises for minors without accompaniment. 

Services included in the agreement:  
tutor service for unaccompanied minors to be requested to the structure

overnight stay, breakfast and dinner 

private shuttle bus service from-per lessons already included in the fee for unaccompanied minors 

for students of age or under the age of 18 accompanied possibility of using the private shuttle service by an extra minimum fee 

dinner service at the boarding school also for non-residents in the structure at € 12.00 to be booked at Salesian Institute

Contact of the Institute  
http://www.casaperferielaspezia.it/ 
https://www.booking.com/hotel/it/casa-per-ferie-san-giovanni-bosco.it.html 

Other recommended facilities:
https://www.facebook.com/nidodiGiambra/?ref=br_rs 
TTPS://WWW.BOOKING.COM/HOTEL/IT/IL-NIDO-DI-GIAMBRA.IT.HTML
HTTPS://WWW.BOOKING.COM/HOTEL/IT/ARCA-DI-NOA.IT.HTML
HTTPS://WWW.BOOKING.COM/HOTEL/IT/BEA-MAISON-LA-SPEZIA.IT.HTML IF YOU HAVE CAR
HTTP://WWW.COMPAGNIEDESHOTELSLASPEZIA.IT/EN/OFFERS.HTML
HTTP://WWW.AQUILONESULGOLFO.IT/
HTTP://WWW.BOOKING.COM/SHARE-UHFZ6E , GROUPS APARTMENTS
HTTPS://GRANDHOSTELMANIN.IT/
HTTP://WWW.LABRANDA.IT/INDEX.PHP/IT/
HTTP://WWW.WELCOMELASPEZIA.IT/CONSORTIUM, YOU CAN SEE DIFFERENT FACILITIES

FOR STUDENT LUNCH 

Agreement with Miss Food, a cafè close to the Studio where they can order salads, first courses, sandwiches, toasts, fruit etc ... ... 
we will give detailed information on this later. 
They will be able to choose a package and at the time indicated by us after the lessons they will find what is required ready 

FOR DINNER OR LUNCH FOR ACCOMPANYING PERSONS 

Pizzeria Masaniello, historic center https://www.facebook.com/pizzeriamasaniellolaspezia/ 

OTHER 

The nearest airports are: Pisa, Genoa, Florence.  The central train station is only a few minutes walk from the historic center, 
where most of the structures are located. 

AUDITIONS
ALL THE AUDITIONS ARE CONDUCTED BY LA MAISON DE LA DANSE, LA SPEZIA, ITALY, 
OFFICIAL PARTNER OF THE VAGANOVA BALLET ACADEMY

Auditions in person will take place in various cities 

Rome, UID organization Italian Dance Union https://www.facebook.com/UIDdanzaUID +39 3888624833 mail unionitalianadanza@gmail.com 

Florence, coordinated by Mrs. ELISA PETRI mail elisa.petri@virgilio.it 

Catania, Arteballetto Akademie asd organization https://www.arteballetto.net/, mail patrizia.perrone@arteballetto.net

Naples, organization Liceo Coreutico Napoli City Ballet https://www.facebook.com/liceotersicore/ tel 0039 3665040871


VIDEO AUDITION 
Students of all other countries have the possibility to stand a video audition sending a video on usb or by email
(NOTE: pls send it by ordinary mail only, NOT by registered mail!), which will be validated only after the amount of 40 euros is paid by bank transfer to: 
SUMMER INTENSIVE 2021, VIDEO AUDITION – STUDENT'S SURNAME+NAME. 

Bank charges for payments from abroad must be covered by the sender. In no case will the fee be refunded. 
Moreover, please mail us your detailed contacts with the video. 
Bank details below: 
La Maison de la Danse SRLD Dance Academy  
IBAN: IT32G0623010709000040470553 
BIC-SWIFT: CRPPIT2P188 
Bank: Credit Agricole Carispezia - Agency C, Via Sarzana 29 La Spezia-19125, Italy  
Legal address for bank transfers: Via Mantegazza 162, La Spezia-19126 Italy Bank charges: to be paid by the sender  
Ordinary shipping address for sending video-keys. 
La Maison de la Danse Academy Via Fontevivo 21n La Spezia 19125, Italy

Video Audition, DETAILS
Please present simple sequences of exercises at the bar, max 5 minutes; center 5 minutes; small and big jumps 5 minutes.  
Mandatory: pointe shoes in the center for girls aged 16 and up.